The society TexaPoker, host of official tournaments, will propose again the "TexaPoker Series" at the casino of Gruissan (South of France, close to Narbonne). The event will be held from the 5th to the 7th of February and the Main Event is already booked up! The late players could rejoice with two sides.
Already popular in South of France and after the success of the last events, TexaPoker organizes a weekend of intense competitions.
With a Buy-in at €400, this Main Event will be played for the first time in 6-Handed (6 players per tables). The appointment is Saturday 6th at noon with 40,000 chips and rounds of 40 minutes. Thus, it is a nice deep structure that is waited by all the participants which late entrance will be accepted until level 8.
Pretty interesting, right?
The tournament was already booked up Monday 25th of January. The 26 tables of 6 players have been full quickly.
Knowing this success, waiting lists have been created to satisfy the numerous demands, just in case.
Two sides are also programmed Sunday 7th of February with an Omaha Pot Limit at €200 (30,000 chips and rounds of 30 minutes) and a regular at €80 (20,000 chips and rounds of 20 minutes). Hurry up, there won't be enough for everybody!
Later, numerous events will be organized, as the one held from the 19th to the 21st of February at the Costa Brava Casino of Lloret Del Mar! With a Main Event at €300, this festival will be held every month in the Spanish venue on the seacoast.
Have a look to February and March schedule: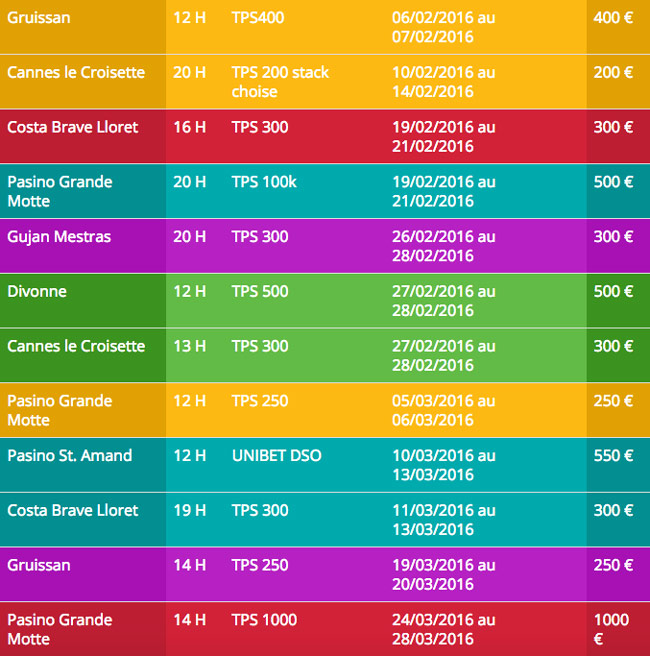 See you soon at a table!