As you may have noticed, CasinosAvenue has made some changes in order to enhance your experience and make your visit more pleasant.
A new homepage, more agreeable and brighter took its place, as well as an ergonomic and simpler casino's pages highlighted by the main information that you need.
To be more specific about those casino's pages, you have now the opportunity to modify the information concerning the games, equipment and services.
Indeed, who's better than you, the players, to fill or modify the minimum bets, a change of address, timetables or even the presence of a parking lot or not?
It is sometimes hard to have access to all the information about the 3,200 casinos that we list, that is why we need you to create a more reliable website!
Thus, we you can notice on the following picture that you have a small pad with a pen, which you can click on: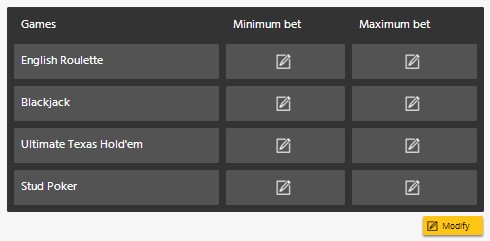 You will have access then to a page where you can add your suggestions:
After your suggestions and according to their relevance, we will moderate them and put directly online!
As said earlier, that goes the same for the sections "Practical information" and "Equipment and services"!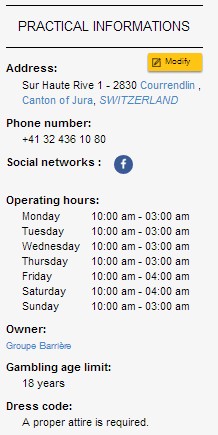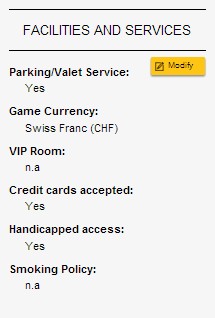 Now it's your call!