It is with a real pleasure that we announce you a partnership with the bigger French community website of Poker: The Club Poker. From now on, you will find on CasinosAvenue the schedules tournaments of the venues partners with Club Poker!
Club Poker is a reference for hundreds thousands of players of all types.
With its hyperactive forum and its specialized radio, beginners as well as confirmed players find answers to their questions, which is its strength.
Globally, whether it is for news, discover videos of event and coverage, advises or searching live tournaments, you will find everything you need on Poker!
By the way, it is on the very last topic, the "search of live tournaments" that our partnership could be useful.
Indeed, the tool "Poker Map" allows to find a tournament no matter where, among the dozen of partner casinos. Perfectly matching our project, we made an agreement allowing you to find all those information on CasinosAvenue!
Thus, you will have now the opportunity to check on each casino sheets if Poker tournaments are organized.
For example, if you live around Paris, you can consult the sheet of the Cercle Clichy Montmartre and finding this: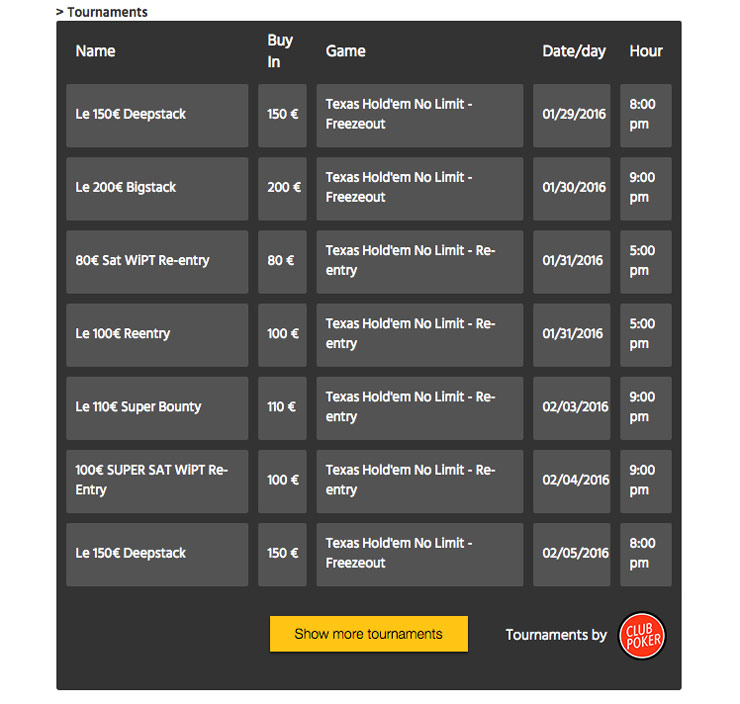 In this example, you can find daily tournaments at the Cercle but also discover the schedule of the 3 next weeks of tournaments by clicking on the icon "See more tournaments".
You need more information on a tournament? Click on the icon "ClubPoker" below the table to find detailed structures and more!
If you are a globetrotter and facing players from abroad do not scare you, be aware that a numerous tournament schedules could be checked all around the world.
Aspers casino of London, Borgata of Atlantic City, Las Vegas Aria, Holland of Amsterdam, Card Casino of Prague…you won't miss to spice your holiday with a live TN :)