The poker lovers will be pleased during the whole month of March in the famous casino of London. Not less than three big poker events will be held inside the Aspers Stratford Casino London. The magnificent casino's Poker Room will be agitated!
The "888 Live"
The beginning of the festivities will be starting from the 3rd of March with the organization of a tournament ("888 Live"), sponsored by the online room of the same name.
During four days (3 days 1 + 1 day 2), numerous players are expected to participate to this event with a Buy-in of £220 (€280). A nice deep structure (25k chips) with levels from 30 to 40 minutes are waiting the players who can re-entry one time each day one.
The objective hopped: having the same success than the last edition, which attracted 556 players for a prize-pool of £110,000. Nice!
The World Championship of Amateur Poker
After being back on its feet, the casino will host the APAT (Amateur Poker Association Tour) from the 19th to the 28th of March. This association organizes tournaments with small buy-in and have more than 80,000 members all around the world.
If you are not up to put your entire budget on the table, this event is totally perfect for you.
During these 10 days of competition, 22 events take place for the World Championship of Amateur Poker. Lots of variants (Hold'em, Omaha, Horse, Razz), formats (full ring, 6-max or shootout) and structures (deep, turbo…) are represented to please you all.
The buy-ins range from £55 to £220.
Here's the detailed schedule: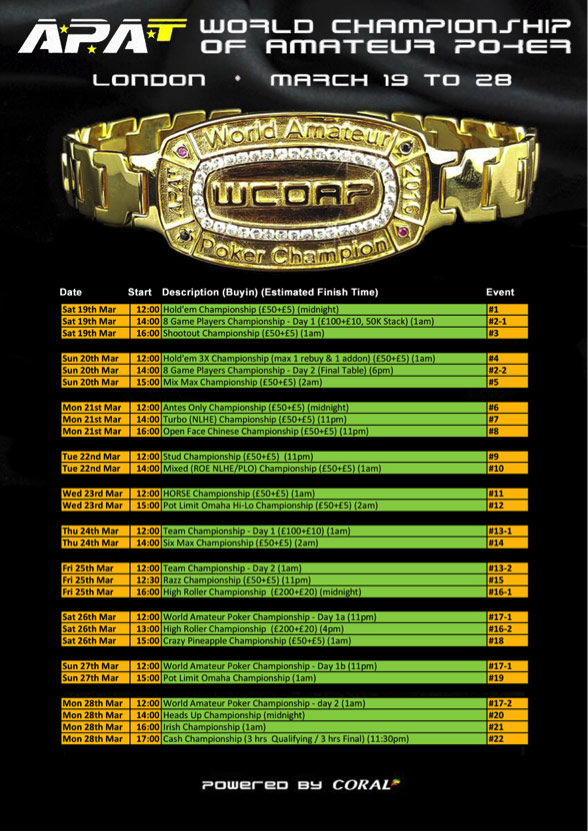 The Cash Game Festival
To finish this crazy month, a Cash Game Festival will be held from the 30th March to the 3rd April. Cash Game? Nothing really appealing when you think about it.
However, this event is going to beat a record by offering you 120 hours of Cash Games…non-stop!
Bonuses and gifts are waiting for you during these 5 days of marathon without breaks. Staff and planners will have to be ready. Indeed, not less than 3,000 players coming from 50 countries are expected! They will try to raise huge stacks during games of NL Hold'em, PL Omaha, DC Roe, Sviter Special or Open Face Chinese.
Sponsor websites as 888, NordicBet, OlyBet and Guts.com provide to players the opportunity to get entrances to games or other packages.
Have a look on the Aspers Stratford Casino London website for more informations on this « Stack Attack ! »
Poker lovers, a little stop-off in London is worth doing next month. There is a lot to do!