The former Portuguese colony returned to China in 1999 is trying to diversisfy its offer to compensate the new anti-corruption measures implemented by Chinese officials. The chinese gambling paradise is indeed going through an unprecedented turnmoil.
Macau has long become world's first gambling capital before Las Vegas with more than 50 casinos and 7 times Sin City's revenues. In 2013, it registered its new record with its revenues which rose by 19% with an annual turn over of 45 billion dollars.
However the revenues have been falling since January 2014, says Macao's Office for Sanctions Monitoring and Coordination of Games with a decrease of 36.5% over the 8 first months in 2015. They decreased by 50% in February and by 35.5% in August regarding the previous year.
According to Macau's Statistics Office, expenditures on tourism also have decreased by 20.6% in the second quarter and by 10.2% in the third quarter.
VIP rooms which represent the biggest source of the area's income are closing one after the other, while hotels and casinos have to lay off and cut in the wages and construction projects like the one of the Parisian resort are hardly developing.
This economic collapse is not only due to Chinese government's visas restrictions to Hong Kong and Macau while 2 clients out of 3 come from mainland China, but also because of 2 years long Chinese President Xi Jinping campaign against corruption and money laundering.
Using cash in Macau was common and clients were never enquired about their income's source. « Macao served as a hub to offer bribes to people who were trading in mainland China. », says Matthew Liu associate professor at Macao's University of marketing.
70% of the casinos' market share of the sole Chinese region where gambling is allowed come from VIP rooms big players while they represent 30% in Las Vegas and 50% in Singapore, the new casino destination. But Beijing wants gambling to be more regulated, which requires Macau's economic model that is still too much based on casinos and junkets to change.
Macau deceided to follow the exemple of Las Vegas and the Strip where only 30% of the revenues come from gambling, the rest including restaurants, hotels, night clubs and shows. For this purpose large companies and promoters such as Las Vegas Sands, Wynn and MGM Resorts International are one step ahead in the development of new facilities and tourist leisure installations.
The American giant Sands is thus a leading investor in the Chinese peninsula, it built the Venetian hotel that opened in August 2007. It is a reproduction of Venice and the replica of the Vegas hotel bearing the same name which is 5 square kilometers long and features 3,000 rooms, 350 shops, 20 restaurants and a 15,000 seats concert hall.
The opening of 25 new hotels in the area are also expected, not to mention the thousands of rooms, restaurants, bars and one of the world's biggest shopping mall ever built that will open aside.
The five stars hotel & casino Galaxy Macau inaugurated in 2011 serves as an example, it is one of the biggest resort of Asia and recently opened new vip rooms. However, with its 2,200 rooms, its numerous spas and pools, its forty restaurants, its « shopping walk » and especially its wonderful « China Rouge » that features ten lounge bars, the venue is ready to meet the new demand.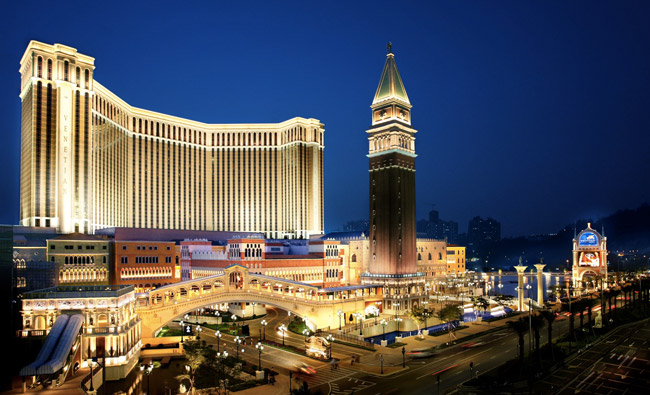 Credit: Las Vegas Sands Corp