According to recent reports from The Daily Beast, at least one casino in Las Vegas is grossly violating the state's COVID-19 guidelines, putting the well-being of their customers as well as their employees at grave risk.
After several anonymous interviews with that, The Daily Beast conducted with employees of the Cosmopolitan hotel in Las Vegas, it quickly became clear that not only is the hotel ignoring the guidelines, but also the pleas of their employees to keep safety precautions.
Almost all of the interviewees confirmed that they are extremely scared for their health when going into work, which should never be a complaint made by an employee of a developed nation.
However, the employees are also blaming the ignorance of the customers themselves who don't really care about whether the casino is following guidelines. Most employees have complained about the gross negligence of masks, hand sanitizers, temperature measurement procedures, and everything else relating to Coronavirus by customers themselves.
Many have commented that in some cases, the employees don't have clearance to kick customers out directly after they've entered the premises without the necessary precautions.
All of this may sound quite despicable from the Cosmopolitan's side, but it turns out that they are not the only ones involved in this.
According to Jeff Hwang, a market analyst, the Cosmopolitan is the first hotel to stand out among many as a direct violator of COVID-19 guidelines. He has mentioned that just because only Cosmopolitan has been painted this way, does not mean that it's just them who is violating these procedures.
There is a high chance that the majority of Las Vegas casinos are deliberately ignoring COVID-19 guidelines in an attempt to stay afloat in an economy that keeps on sinking as the days go by.
Withholding information
As it was soon found out after the interviews, the Nevada government may be indirectly involved in the gross violation of COVID-19 guidelines as well. According to several news outlets and the governor Steve Sisolak himself, the state has not completely disclosed all of the information on the gatherings and numbers involved with the city's casinos.
Many are fearing that casinos are either building up to be super-spreaders or are already at that stage.
Furthermore, we need to consider the location where these visitors are coming, and where they will be going back to. According to the Las Vegas Conventions and Visitors Authority, the number of visitations in June 2020 was around 1 million, about 3 times less than it was last year.
Considering that the lockdown was in full swing in June, we can safely assume that the number of visitors has slightly increased in August.
Therefore, there is potential that out of the 1 million visitors to Las Vegas, 10% could contract the virus and bring it back to their own states, leading to even further complications in identifying sources.
In the wake of these issues, governor Sisolak has commented that he may be forced to disclose all of the information gathered from Las Vegas' casinos in order to conduct better tracking procedures.
Why information is being kept closed
One theory about the reason behind the informational lockdown is that Las Vegas casinos are afraid of the growing potential for an online casino market in the United States. Up until now, there were just small discussions about allowing sports betting to be done online, but very little has been talked about allowing online gambling in general.
And why would there be? An online casino is cheaper to operate, has a much larger profit margin, and does not suffer from these kinds of crises. Based on reports coming in from legal countries, online casinos are much more effective than brick and mortar ones.
Why wouldn't it be? A large majority of customers that go to Las Vegas go for just the games. Why bother when they can access the games directly from their devices? Only a few online casinos had the guts to market this particular argument though, as it would mean dealing with brick and mortar casinos and their owners who tend to have friends in high places.
An exemplary campaign would be from a European brand that has a North American presence as well. The PlayAmo website was one of the first online casinos to use this argument as a marketing campaign.
Something like "why drive for a day when you can play for a day". Needless to say, many land-based casinos in both Canada and the USA were very unhappy with this kind of "badmouthing" so to say. But there's nothing wrong with explicitly showing how one product is better than another, at least legally.
Should Las Vegas casinos show to be a major health issue to the general public of the United States, the whole city may have to be quarantined or at least shut down economically.
Should this happen, the government will face a whole slew of new problems. But here's the biggest one of them. The demand for gambling will still be there, but the supply will wain considerably.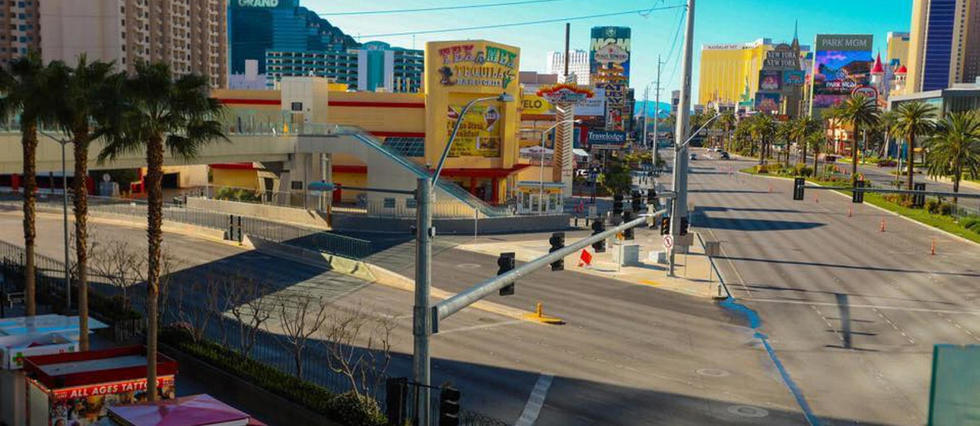 Demand and supply
We've already learned from US history that banning something that has high demand does not necessarily decrease the demand. It may actually cause a spike as people in a way see it as a protest towards the ban to use these goods.
The same thing is going to happen with gambling. Sure, it will not be banned completely, it will simply be out of direct touch for a temporary period, but people will still want to gamble.
Due to the relative lack of online gambling opportunities in the country, paired up with few sports activities to bet on, millions of Americans could potentially turn to offshore gambling companies for their gambling needs.
What this means is that the demand of the American people for gambling will be met, but the government is going to receive only a small fraction of the taxes it would have received if online gambling was legal in the country.
Imagine, an American person gambles away $1000, but gets back let's say $500. The only thing that he would have due would be his capital gain tax to the government, which is almost nothing in this case.
The company that did indeed receive this $1000 after the person lost it, doesn't need to pay corporate taxes to the US government, thus depriving the budget severely. And imagine, almost 99% of people lose when gambling, and of the 1% that do win the taxes on those winnings are minuscule at best. The government would essentially be missing out on taxes for $117 billion in annual gambling revenue in the USA (according to 2016 metrics).
Not only will this mismanagement of Las Vegas casinos bring in a temporary economic crisis to the city, but it may also soon grow into a permanent one once Americans get used to online wagering. All of this not mentioning the millions of lives this issue may affect.
The bottom line
The only real thing that can be done at this point is the disclosure of information on where COVID-19 guidelines are being met and which casinos are breaking them. It's not even necessary to close down everything.
Just issue significant fines for breaking these guidelines and in no time those very same guidelines will be like the 10 commandments for brick and mortar casinos in Las Vegas.