Both the states of Illinois and Michigan are preparing for the grand opening of their first legal land-based betting venues. Michigan decided to wait a little bit as people get adjusted to the week and will open its doors on Wednesday, while Illinois is not taking any chances in waiting for anything to happen so the venue will accept its first bettor early in the morning on Monday.
Both of the states used to be part of the United States that looked down on sports betting and any gambling activities, but officials now predict that these newly established venues are going to be helpful with supplying the states with enough income to support future projects.
Naturally, these projects could be the diversification or an increase in betting investment, but it could also be projected for helping the less fortunate citizens living within the states' borders.
Preparations in Illinois
The Illinois Gambling Board is naturally aware of the opening ceremony happening on Monday and so far it has not done anything to prevent it. The organizers are also hoping for a smooth opening event but there is always something that lawmakers could do to stop it from happening.
There's only a couple of hours remaining until Eddie Oclzyk, a former Chicago Blackhawks player becomes the very first legal offline bettor in the state. Eddie will have access to use one of the five betting windows inside the venue or opt for one of the 30 automated kiosks.
The venue itself is located in Rivers Casino in Des Plaines and will be named the BetRivers Sportsbook. It is currently owned by Churchill Downs Inc. but operated by a different company named Rush Street Gaming.
In the wake of new games coming up in both NFL, MLB, NBA and many other leagues Illinois may hit gold on its opening week with thousands of punters lining up to place their first legal bets.
Preparations in Michigan
When it comes to Michigan, we can expect the final approval to be given to commercial casinos by the Michigan Gaming Control Board (MGCB) on March 10th, however the casinos themselves will be open to punters on Wednesday, March 11th at 13:00 sharp.
According to the MGCB press releases there will be three commercial casinos that will be getting the regulatory approval in the state, while other gambling venues owned by local tribes will remain untouched as MGCB does not have jurisdiction over them.
It is very likely for the tribal casinos to set up their own offline sports betting venues as well, as it would be a serious loss of clientele if they allow competitors to have a unique option.
As for the opening ceremony, there are no reports of former or current celebrities opening the venues and being the first legal bettor in the state, but there are promises. It's most likely going to be a run-of-the-mill opening ceremony with the CEO or owner of the venues cutting the wire and letting all of the impatient punters inside the building.
There is also very little information on how many betting windows or automated kiosks these venues will have, but considering there will be three of them it's believed that there will be more than enough options.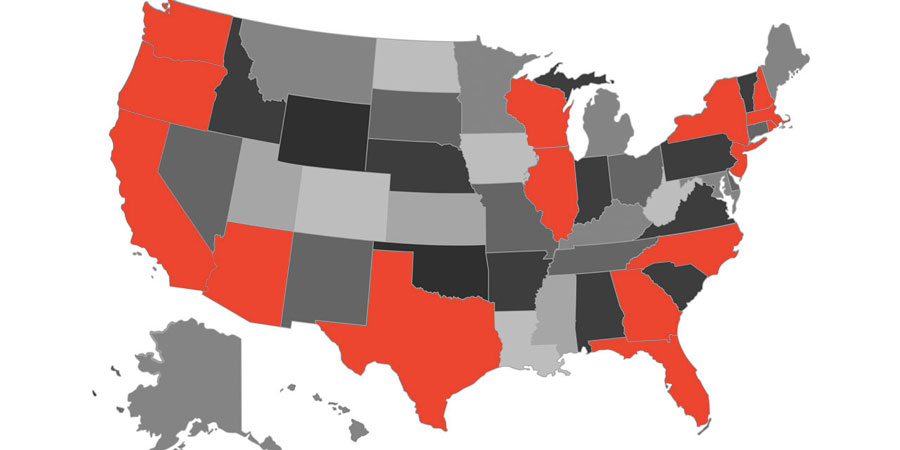 Expected issues
Although the ceremonies themselves are predicted to happen without any major issues, it is the following days of the venues' operations that have brought up some questions for both the regulators and the casino owners.
There is a state of emergency in most of the country due to the recent news on the coronavirus. No matter how much somebody would like to bet on sports, going to a crowded area is in most cases agreed to be a bad idea.
Considering the Illinois case, where we have information on the betting windows and kiosks, it's safe to say that the venue can potentially service hundreds of punters within minutes. Having that many people in a relatively closed-off area could lead to some serious issues in terms of virus transmission and spread.
Neither the owners of the venues nor the regulators have mentioned anything about disinfecting the area or controlling the flow of punters inside the buildings.
Furthermore, should punters actually take care it's likely that the venues will have a terrible first month of operations due to more and more Americans preferring to stay home during the outbreak. The only real solution to this would be to launch an online platform until the virus is dealt with and under control.
Can this snuff out the online competition?
One of the most important factors that any new betting or gambling venue needs to consider when opening up is the competition they will have to face from online companies. It cannot be denied that online is the way to go in 2020.
Not only do companies get access to their local clientele, but they can also reach a much larger market through only one platform. For example, if an offline casino decides to branch out to a nearby state, it would be associated with billions of dollars as investment, but if an online casino wants to branch out, all it needs is an approval from the local regulator and maybe a small office in the city.
No matter how unique a new venue could be the danger of losing clients to online providers is always present. Furthermore, not everybody goes to an offline casino every day, while online platforms do indeed have that luxury.
I guess the moral of the story is that even though an offline casino can literally buy alien technology and install it locally, nothing can truly convince some Americans to leave their homes on a daily basis. However, looking down on their phones and tablets and having the option to bet from there do not face this issue.
No matter how we look at it, offline casinos are on their way out and Illinois and Michigan opening new ones is not really a testament that the industry is growing in any way possible.