In order to make our platform more attractive and easier for you to use, lots of changes have been made lately.
The search bar allows you now, to filter by types of offers and types of games. Hence, for instance, if you live in Vannes and wish to find a casino that suggests you poker cash game, type "Vannes", select the city in the suggestion panel and select the filter "Game - Poker cash Games".

Here what you will find: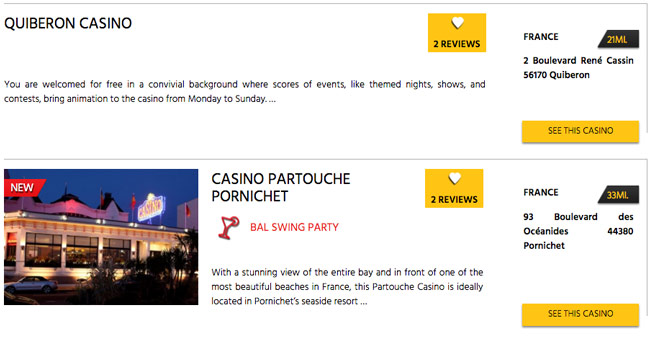 Unfortunately, the casino of Vannes does not offer cash game; you will be then redirected to the casinos near your location, which allow you to play.
Thus, it shows the Casino of Quiberon at 34 kilometers, the Casino Partouche of Pornichet at 53 kilometers and the Casino Barrière of Dinard at 119 kilometers.
By checking the casinos sheets, you will find facts on limits, time schedules and phone numbers of the venue, in case of you need more information!
Last but not least evolution: new categories are available in our blog!
All news are now reorganized and a bigger part is given to articles on game strategies, casinos offers and information on Las Vegas!
To make you get all the chances you need during your next visit in a casino, infography and files will help you to master the main game's strategies.
The articles on the Baccarat, Blackjack, Craps, Sic Bo, 3-Card poker, Stud Poker, Ultimate Poker, Casino War, Roulette, Slot Machines or Video Poker are just waiting for you!
Plenty of other little things have been improved to make you spend a pleasant visit in our website.
Anyhow, do not hesitate to give us notes, either negative or positive, because it is always important to know your opinion!