Land-based casinos have been around since Renaissance times, and ever since, it's been a playground for the rich. Early venues, like the pioneers Casinò di Venezia (since 1638) in Italy, and the Casino de Spa (1763), in Belgium, are still sources of inspiration for new casinos.
However, the casino business got incredibly competitive with time. So, more casinos decided they wanted to look differently from the others.
The result of this competition is a feast for the eyes: some venues today figure among the most impressive feats of the architecture of our time. Learn more about them below.
Not a Place For Modesty
Strolling by Las Vegas, you surely won't see any humble facade. You'll see quite the opposite. All kinds of extravagance can be found there, like a Pyramid or the Eiffel Tower. For some, Las Vegas pushes casinos' aesthetics to the edge of the kitsch.
However, even classic-looking casinos, like the legendary Casino de Monte-Carlo, are as luxurious as they can get.
So, although Vegas' casinos and classic European casinos look quite different, the component "luxury" is common to both types.
Yet, there's a much simpler solution for those who can't travel to such places: online casinos.
Online gambling is gaining more traction by the day and now spearheads a multi-billion dollar market. There are plenty of options out there and even pages dedicated to tracking the best casino bonuses, latest games and odds.
Getting Surreal
Forget the Renaissance or Great Gatsby vibes. We live in a time of technological wonder, which is eventually expressed by unbelievable designs. Check here some casino buildings that scream extravagance through every axis.
The Luxor - Las Vegas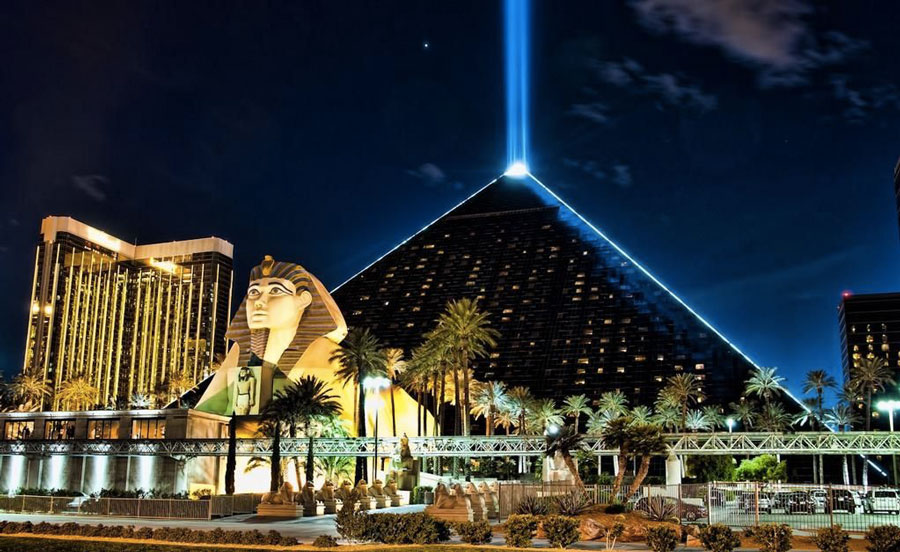 The Luxor is one of the most emblematic casinos in Las Vegas. The famous Egyptian city of Luxor inspires the venue.
The premises house, among other things, a sphinx and a massive pyramid. The top of this pyramid emits a light beam at night. It's the world's strongest beam of light, visible from approximately 3,000 miles away.
The Morpheus Casino - Macau
The Morpheus Casino is truly one of a kind when it comes to architecture. An enormous exoskeletal structure holds the whole thing together.
There are no internal walls or columns, creating sinuous geometrical patterns. The masterpiece looks like no other building and is granted the architect, Zaha Sahib, a Pritzker Architecture Prize.
Marina Bay Sands - Singapore
Making a casino on a boat sounds reasonable in a marina. However, it sounds much less reasonable when this 340m long boat is almost 200m above sea level, supported by three sky-scrappers. This insane venue also offers the largest infinity pool in the world.
Resorts World Sentosa - Singapore
Marina Bay Sands isn't the only goliath of the casino industry in Lion City. Resorts World Sentosa is an almost city-scale structure, with casinos, hotels, and even an aquarium.
Conclusion
There are so many incredible casinos worldwide that a tourist trip based on them would make for an unforgettable adventure. Online casinos are better and more realistic every day. Yet, it's impossible to compete with the experience that such grandiosity can provide.