In September, Atlantic City casinos operations generated a significant increase in gaming revenues compared to the same period last year, according to data released on Thursday 15th.
In Atlantic City, the resort's casino industry produced more than $230 million in revenue from table games, slot machines and Internet gaming.
Compared to the $207M posted in September 2014, it increased by nearly 11% according to data from the state Division of Gaming Enforcement.
The data showed that out of the eight remaining casinos of the city, only two -Bally's and Trump Taj Mahal- reported a 4% decline in their revenues.
Meanwhile, five casinos posted a double digit growth (Borgata, Caesars, Resorts, Golden Nugget and Tropicana) and another one (Harrah's) experienced a slight rise in gambling revenues.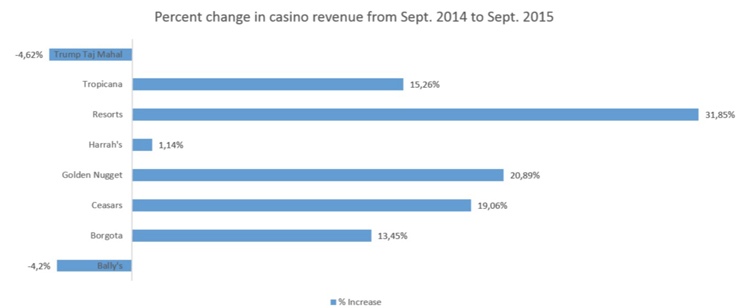 According to the state, the performance was driven in part by luck. It said that the positive results were due to the fact that all fell in September this year while most of the busy holiday fell in August last year.

The result includes the four gambling venues which closed doors last year. Yet, it did not prevent it to reach a 11% increase.